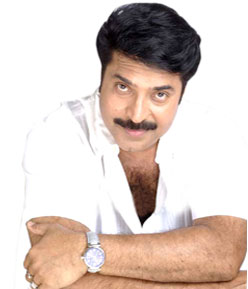 Mammootty
Name : Mammootty (Mohammad Kutty)
Date of birth : 7th September 1953 Family : Wife - Sulfaath, Daughter: Surmi, Son: Dulquar, Salman
Father- Ismail, Mother - Fathima, brothers - Ibrahim Kutty, Zakariah, Sisters - Ameena, Sauda Shafina
Address : Mammootty, 7 Greenways Rd. Extn., Raja Annamalaipuram, Chennai - 28. Ph # 044 - 4933404.
Mammootty born on September 17, 1953 to Fatima and Ismail in Chempu near Vaikom, Kottayam district, Kerala is a popular Indian film actor. He has won the Indian National award for best actor three times, a feat shared by Kamal Haasan. He has acted in more than three hundred films, most of them in Malayalam. He also acted in Tamil, Telugu, Hindi and English language films. He has been successful in both mainstream and parallel cinema. He has won the Indian National award for best actor three times.
His first Film as an actor, Devalokam (World of Gods), was not released in theatres. Famous writer and author M. T. Vasudevan Nair and film director K. G. George played an important part in the growth of his career. He talent was noticed films like Yavanika (Curtain), and Valarthumrigangal (Domesticated animals), and Vilkanunde Swapnangal (Dreams for sale) which were all films of K. G. George. The film New Delhi directed by Joshi was a turning point in his career. The film was based on the story, "Almighty" by Irving Wallace. His character of a victimized journalist, who systematically took revenge on politicians who beguiled him, was noticed. By then he had become a popular actor and respected as fine actor.
Mammootty's career graph dotted with highs and lows. His career saw a spectacular rise after the release of Joshi's New Delhi. It heralded the arrival of Mammootty the super star. His performance as a victimized journalist, who systematically took revenge on those politicians who beguiled him, caught the imagination of many in the film world. Thereafter he gave series of super hits, but only to remain low for sometime afterwards.
Apart from the heroic roles he enacted in pure commercial films, Mammootty was fortunate to have got the chances to portray the meaty roles of M T Vasudevan Nair's (M T) characters. M T's films like Aalkootathil Thaniye catapulted him to new realms of stardom. His controlled acting, never crossing the limits, and his presentation of M T 's dialogues, which were always pregnant with meaning, gave Malayalam cinema a new concept of hero.
Then came his Oru CBI Diary kurippe, which some observers of Malayalam films say was a landmark. It brought to fore a new concept of villainy, fresh presentation of politicians and above all a refreshing idea of hero. Without even a single song or dance number, Oru CBI Diary kurippe went on to create box-office history in Kerala. For all these, a large portion of credit goes to Mammootty for his enactment of the role of an upright CBI officer and his immaculate ways of unfolding the secrets of a murder shrouded in mystery. His theatrical representation of a Tamil Brahmin CBI officer became a topic of household discussion in Kerala.
Mammootty touched higher pinnacles of his career in Oru Vadakkan Veeragatha, again an M T creation. His depiction of a man of distinguished valor but vilified by circumstances won him the top honors of the country, National Award for best acting. His histrionics matched the literary genius of M T. After his first national award, he made it almost a habit of winning the national award.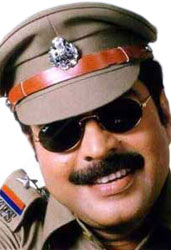 It was acting talents coupled with his willingness to go to any extent to rationally portray the roles that helped to him put his one leg in offbeat and commercial movies and other in art movies, and yet not to fall flat. Mammootty became almost a regular face in Adoor Gopalakrishnan's films. He starred in three of his latest movies, Anantharam, Mathilukkal and Vidheyan. The easiness with which he illustrated on screen the protagonist in Mathilukkal won him national award for best acting once more. It was again in an art movie, Ponthan Mada, which won him the national award for a third time.
In between he had crossed the boundaries of Malayalam cinema and acted in Tamil, Telugu and Hindi movies. Though he proved a success in Tamil after Mani Ratnam's Dalapati and continue to shine in Tamil films (Kandukondein Kandukondein is his latest Tamil flick), his maiden Hindi film, Dhartiputra went unnoticed. But his national presence was once again felt after Jabbar Patel's Dr. Baba Saheb Ambedkar. So realistic was his performance that it was reported thousands who watched the shooting of the film were in tears after the shooting. No wonder, he again bagged the coveted Rajat Kamal for best acting.
Howsoever, Mammootty has his drawbacks too. He is vulnerable in comedy scenes. Running around the trees is not his cup of tea. His fans would like to avoid watch him dancing. Nevertheless, his innumerable good qualities make up for his rather insignificant shortcomings.